Fulfilled by our friends at Crescent Womb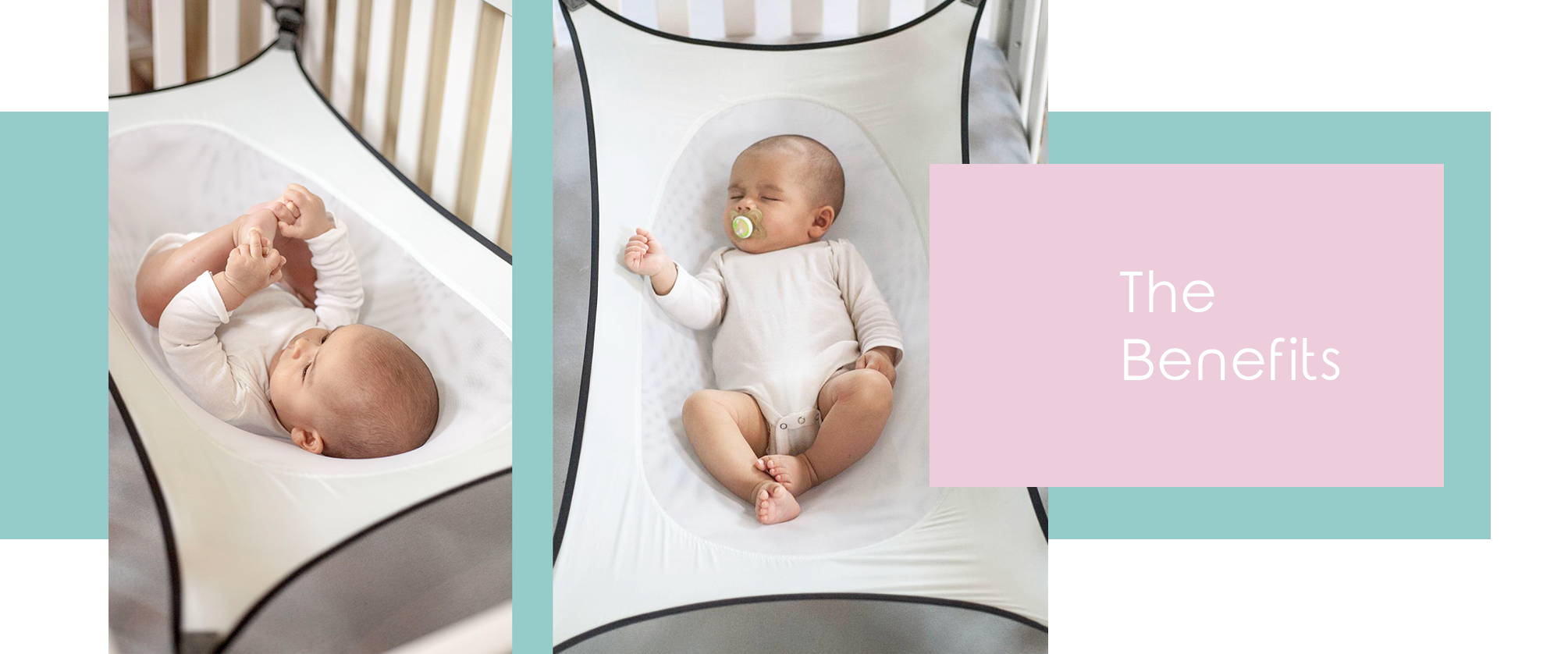 What do we mean by "Ease the Transition
from Womb to World"?
Crescent Womb was designed to comfortably support your child as if being held. This reduces tears, and improves sleep for baby AND parent. The mesh sleep surface helps baby self-soothe while increasing breathability and reducing the risk of over-heating and suffocation. It's a winning combination. 
Also, Crescent Womb is extremely versatile. Portable, machine washable, and able to attached to just about any crib or pack n play so you can use it anywhere.
Read the ever-growing list of benefits medical professionals and real parents like you have found while using Crescent Womb® (read more)
Babies breathe easier and receive more oxygen to developing vital organs. Easy breathing and more oxygen promote infant growth by freeing up calories and energy that can be used for development.
Helps hip development and prevents hip dysplasia.
Makes it easier for babies to maintain a healthy body temperature by preventing temperature exposure to arteries.
Helps with digestion and prevents reflux.
Leads to rapidly developing motor skills.
Not only does it speed up muscle development, but it also speeds up the development of nerve cells that control the muscles.
Helps Baby "self-soothe", Cry Less, and SLEEP MORE
Anatomy of a Crescent Womb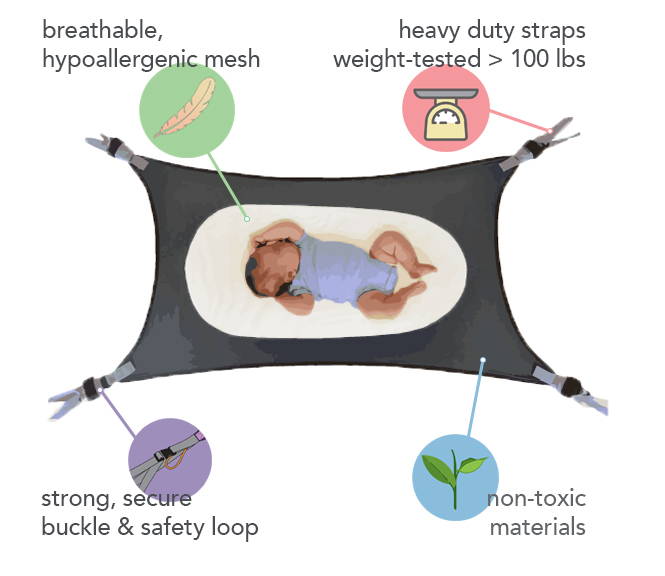 ---
Are You Tired Of Sleepless Nights?
Better Sleep, We Promise: 30-Day Money Back Guarantee.
So pure, so healthy, so breathable, you have peace of mind knowing your baby is resting safely at nighttime and nap-time. Crescent Womb's patented design elements were inspired by a parent's natural embrace. So you can rest assured knowing that your child is in the safest place, outside of a parent's arms.
Breathable, mesh fabric ensures optimal airflow for a safe, comfortable sleeping surface.

Adjustable to meet AAP safe sleep recommendations.

Sturdy straps easily and securely attach to any standard crib.

NOT a baby hammock, meets standards for safe sleep.

Machine-washable for easy care.

For babies up to 25 pounds; Discontinue when baby shows signs of sitting up or rolling over.

Rolls up into small pouch and fits into purse or diaper bag, perfect for travel.
*FREE Domestic Shipping
Our mission here is to provide safe sleep for baby and restful sleep for you.
From our family to yours, thank you.
Sincerely,
The Crescent Womb Team
100% Breathable Sleep Environment for Baby, Even for Tummy Sleepers
We have worked hard to create a product that provides a safe and secure place for your baby while they sleep. We are fully compliant with the CPSC and US Consumer Product Safety Improvement Act (CPSIA). Your peace of mind is extremely important to us and we want you to feel confident about using your Crescent Womb®.
All components tested above and beyond global standards for, and proven free from, harmful substances.

Tested for compliance with US Consumer Product Safety Improvement Act of 2008

16 CFR 1500 Tension tested for 'Normal and reasonably foreseeable use and abuse

16 CRF 1610 flammability testing

Phthalate testing CPSIA section 108 and California Prop. 65

Small parts and use and abuse testing under 16 CFR 1500.50

Heavy metal testing, exceeds all standards including California Prop 65.

California Bulletins 116 and 117 flammability testing.

California Proposition 65

16 CFR 1500.51-53 Part 5 Sharp Point/ Sharp Edge free

16 CFR PART 1500.53(f) (1-1-12) (CAN)

All materials and processes are free from SVHC.

CPSIA Section 101 for hazardous metals including lead.

CPSC 16 CFR 1501 Choking hazard free

16 CFR 1500.51-53 Part E-F Attachment strength pull and torque test for product and components.